Particle Dispersal Study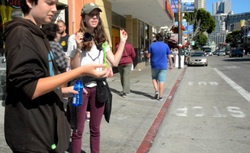 After spending over a year measuring air pollution along Columbus Ave we wondered if these particles were getting into the restaurant and affecting the restaurant workers.

In June of 2016 we started to simultaneously measure the particulate levels along the street and also in the dining areas of adjacent restaurants. The restaurants did not seem to have anything other than natural ventilation. Our early readings showed a particulate increase of about 20% inside the restaurants. It is a complicated issue and we will continue to improve our methodology.


---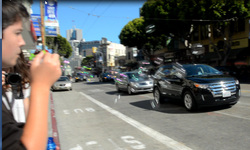 Besides our interest in how street particles might affect restaurant workers, we noticed over the previous year that our readings seemed to show a movement of the particles back and forth across the street. The prevailing wind comes from the west and the particles seemed to move towards the east, hit the buildings and then come back to the west side of the street.
Because we can not see the particles, we decided to buy a bubble toy at the drug store thinking that the bubbles would act like large particles. As of June 26, 2016, we have done just a few studies beginning on the west side of the street. We found something interesting; the bubbles we sent out seemed to follow the path of the northbound cars, then at the Green Street intersection some bubbles went down Green but most crossed the street. As they crossed the street they seemed to be taken by the air currents created by various vehicles so they proceeded south down Columbus towards Vallejo. On June 26th, it was a warm day with lots of weekend vehicles. The bubbles were carried along the street until they came to the parklet where they turned right and flew into the open windows of Cafe Greco--causing patrons to duck. This was most likely convection from the open window. We intend to do more bubble studies but the map below shows the result of our first couple of days research.
---