NEWS:

* STREET AIR is Nominated for a "Gold National Achievement Award" by the American Planning Association. ​OFFICIAL Award Announcement date is March 28th, 2018.

* STREET AIR begins PM 1 study along Columbus Ave. and in nearby restaurants on January 1, 2018. The PM 1 study will be enlarged to other areas of San Francisco as PM 1 data is generally missing in urban pollution data (especially specific location data). Additionally, the Journal of the American Medical Association has recently published data on how certain levels of PM 1 concentrations can cause premature births.


​ABOUT STREET AIR
​
In 2014, Zelda Zivny approached two of us who were her North Beach neighbors and schoolmates. Zelda had recently been walking along Columbus Ave and noticed a large increase in vehicle traffic along the street, especially commercial traffic. She also noticed a new city parklet that put eating places further into the street and closer to the traffic. "Is this safe"? "Is this a good place to eat"? she wondered. She asked us if we would be interested in helping her answer those questions. The three of us decided to study Columbus Avenue's design and also to take pollution measurements along the street where people walk, ride their bikes, and where they eat. We eventually called this project Street Air. Now in its third year, we have expanded our inquiry and we are now interested in the effects of street-level air pollution on nearby restaurants and on the people who work there ( http://streetair.org/particle-dispersal-study.html).

In March 2016 we won the Clear the Air Film Festival (sponsored by the Bay Area Air Quality District and Breathe California) for our film "Columbus Discovers Air Pollution" that documented our early discovery of particulate pollution along Columbus Avenue. We won the "Best Film" award, and we were also awarded the "Audience Favorite" award for the entire festival. Based on the success of the film at the Clear the Air Film Festival, our group was invited to show Zelda's film "Climate Change" at the San Francisco Green Film Festival in April 2016. We were also selected to show our film "Columbus Discovers Air Pollution" at the San Francisco Urban Film Festival in November 2016 at SPUR headquarters in downtown San Francisco. After this screening, our group agreed to appear in a panel discussion with City of San Francisco planning staff to discuss our recommended design changes to the street and city 'parklets." (Please see the "Project Description," "Recommendations," and the "Particle Dispersal Study" pages on this web site for more information on the project methodology and research results). Note, we studied both 'parklets' and regular outdoor street-side eating areas for this study.

San Francisco Urban Film Festival November 19, 2016
After our film was screened, we moved to the front of the theater to engage in a panel discussion and to answer audience questions. Besides the three of us, also present was Robin Abad Ocubillo, Urban Designer and Planner with the City Design Group of the City of San Francisco Planning Department. Mr. Ocubillo was involved with the first designs of the city parklets including the Columbus Avenue parklet we monitored in our study of Columbus Ave. The result of our screening and the panel conversations with Mr. Ocubillo was that the city is working on making changes in street design standards- especially near where people ate along the street- as supported by the policy recommendations we made in the film. Mr. Ocubillo wants us to get involved with the educating the community and to work with city staff on developing a new design of Columbus Avenue that makes more room for pedestrians. City staff and the three of us believe that if local businesses and residents knew of the environmental health dangers to poorly designed outdoor eating places that the community would then be more open to reducing street parking and reducing vehicle traffic (see the article on our process: https://www.newamerica.org/ca/blogs/film-catalyst-innovation-urban-planning/ ).

As a group we are interested in environmental science and using science in an applied way-that is, we want to use science to find environmental answers for policy issues. Our goal is to use our science as a way to affect environmental policy at the state and local level.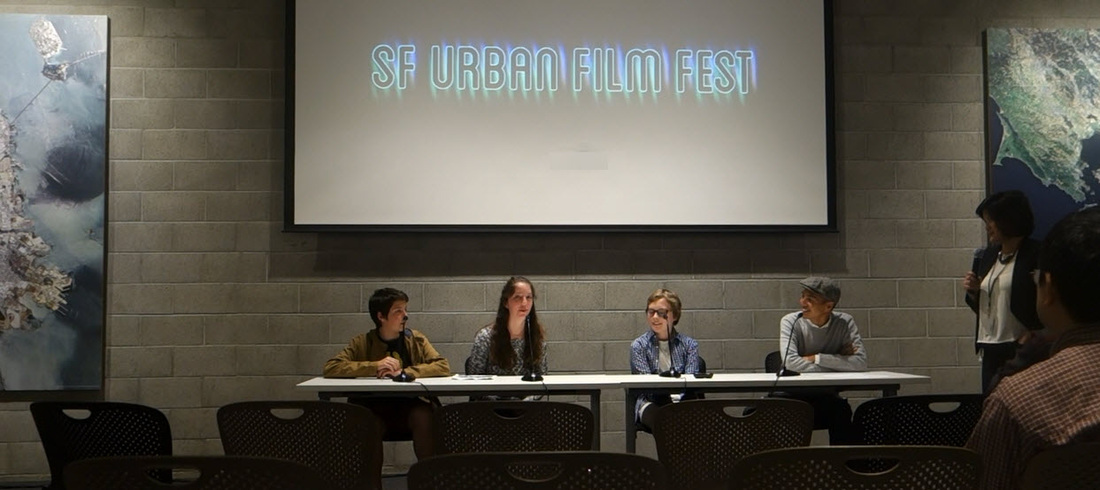 Post screening panel discussion with festival audience regarding the design of Columbus Ave. L to R; Charlie Millenbah, Zelda Zivny, Milos Wetherall, Robin Ocubillo of the City of San Francisco Planning Department, and Fay Darmawi producer of the SF Urban Film Fest.
---
​
StreetAir Receives Award of Excellence from the Northern California Chapter American Planning Association
Click the arrow on the picture above to hear the American Planning Association's Presentation about the StreetAir Project.
Charlie, Milo,and Zelda Zivny receiving Award of Excellence from Northern California Chapter President Sharon Grewal.
June 2, 2017 Oakland, California

StreetAir Receives State of California Award of Merit from the American Planning Association
Statewide Award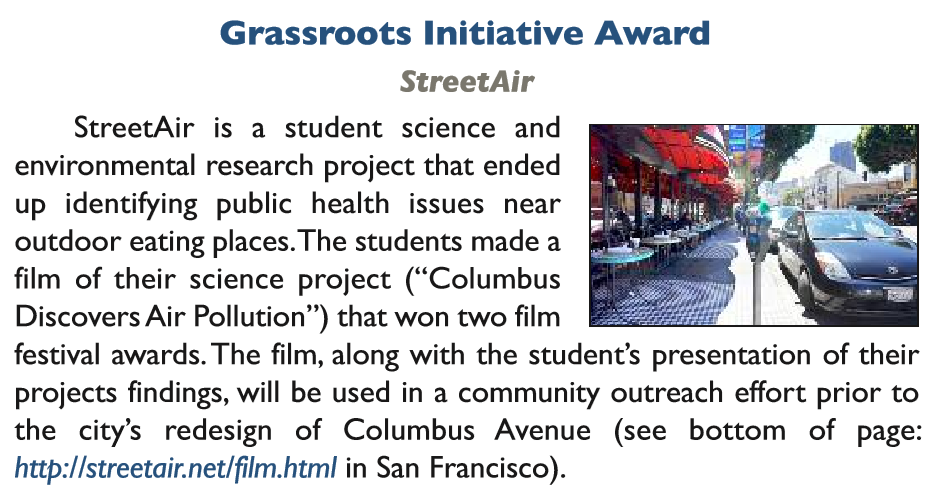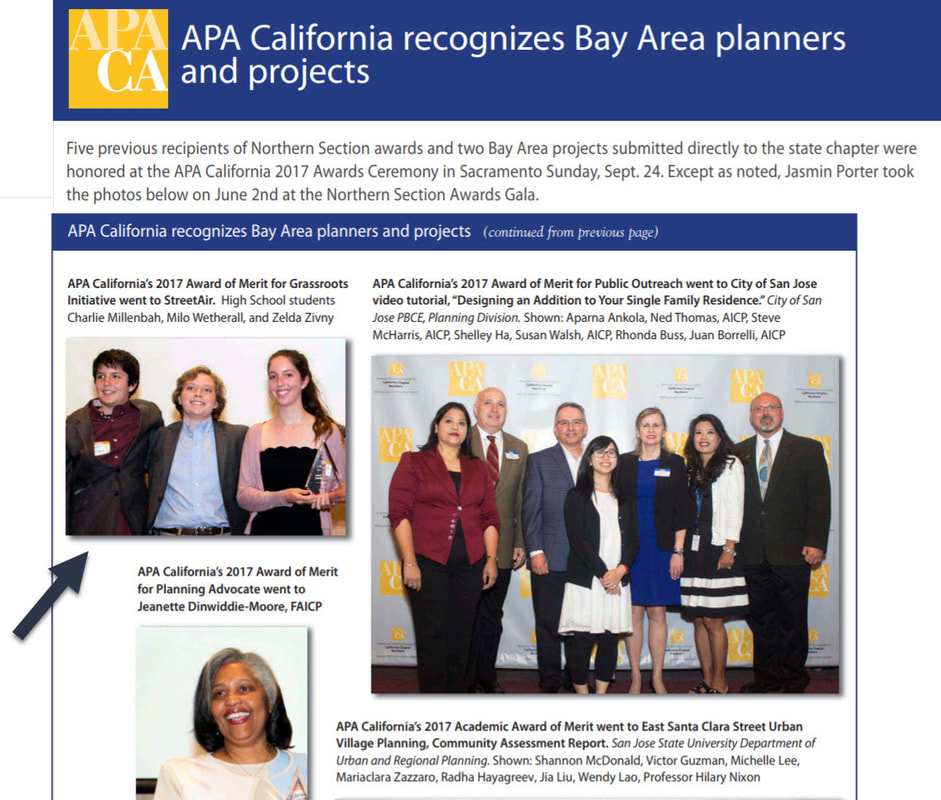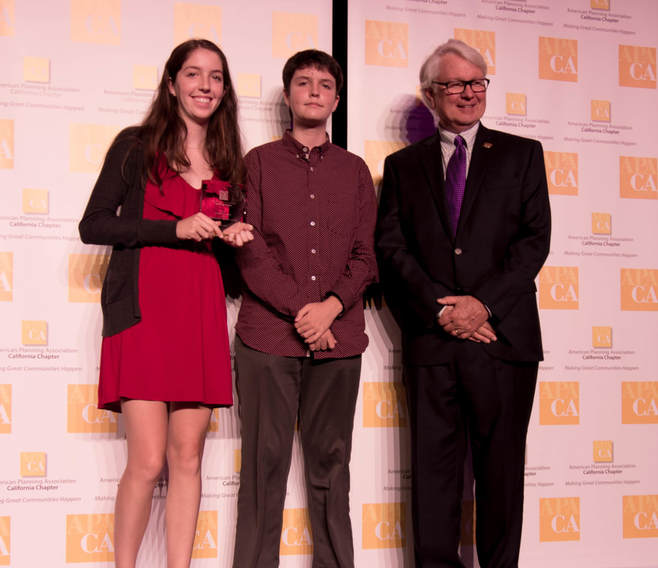 Zelda Zivny and Charlie Millenbah receiving the State of California Award from Pete Parkinson, California APA President. September 24, 2017 Sacramento, California.